History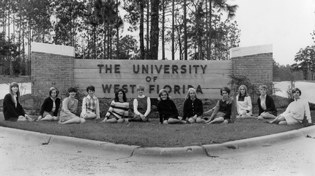 1963 – Establishment of the University of West Florida
The Florida Legislature allocated funding to develop the University of West Florida, which became the sixth university in the State University System of Florida.
1965 – Ground Breaking
Groundbreaking for UWF took place on April 16, 1965. In the same year, the University adopted the chambered nautilus as the official UWF emblem.
1967 - Classes Begin
The first students enrolled in the fall of 1967. The first commencement ceremony was held in June 1968, and fifty-eight students received degrees.
1969 - University Accreditation
UWF earned its accreditation for undergraduate programs from the Southern Association of Colleges and Schools (SACS) in 1969. The University also established its first master's degree programs this year.
1979 - Creation of Traditional Colleges
Initially, the University was organized into three resident colleges, Alpha, Gamma and Omega, and designed for upper-level and graduate students. In July 1979, the University organized into a more traditional structure by establishing three colleges — the College of Arts and Sciences, the College of Business and the College of Education.
1983 – Establishment of a Lower Division
The University was authorized by the Florida Legislature to establish a lower division, and freshman enrolled for the first time in Fall 1983.